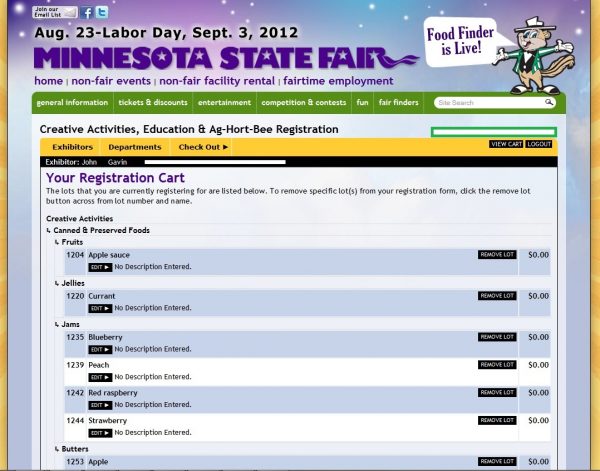 Like happens in many parts of the country, the State Fair here in Minnesota is a beloved annual event.  That's why I'm so excited to have registered to enter my canned goodies into the competition. It's my first time having done this.  It feels like I'm going to the big leagues!
From the Minnesota State Fair's website, "The very best Minnesota has to offer in livestock, creative arts, farm products, and school projects can be found at the Minnesota State Fair."
Commonly referred to as "The Great Minnesota Get Together", people approach our state fair with mixed feelings.  On the one hand there's the chance to see new things, especially the wide array of new foods our state fair has each year.  On the other hand, our state fair comes at the end of summer which always bums people out here, especially as our summers are so short to begin with.
The Competition
Forever I've had this vision of people who carefully tend to their baked and canned goods each summer for submission to the state fair for judging.  Somehow I've viewed this as the best of the best.  And now I'm one of them (or at least I tell myself that!)..
But entering your canned goods into a competition doesn't have to be an exercise of the elites.  You too can enter your canned goods into competitions where you live – even one at your local church or school group, if they have them.
Please, share with us what's available in your area, how one enters, and how you did if you entered yourself.
What I'm Submitting
I actually got the idea of submitting to the State Fair when I was canning currant jelly back in June.  It's so hard to make currant jelly (see my blog entry on that) that I figured why not go the full distance by entering it into the State Fair.
But I have to confess I went a bit overboard when I signed up today.  Here's the categories I'm now registered for (you can see part of the online registration form in the screen shots I posted here) —
Currant Jelly
Peach Jam
Strawberry Jam
Raspberry Jam
Apple Butter
Blueberry Jam
Sweet Relish (I'm submitting my Sweet & Hot Version)
Applesauce (which I make with no added sugar)
Ok, I signed up to enter my killer chocolate chip cookies, brownies, scones, and blueberry muffins as well.  Yes, I know, this is the Canning Season.  But I so love to cook and share stuff that I couldn't resist.  Of course,  I have a ton of work ahead of me, but that will be fun too!  Plus, they allow that sometimes people register but don't always bring the things they originally signed up for.  So I have an out if I can't get it all done in time.
How to Start
Seeing the rules and how the registration process works at a state fair competition such as Minnesota's may be a good place for you to get started for where you live.  I've posted some links below and included some screen shots as part of this entry from my own registration so you can see them.
LInk to the Minnesota State Fair
Details on entering the canning competition at the Minnesota State Fair Located Here
What to Expect 
The big question is this:  Will I win?!?!?  I don't know.  I also don't know what to expect either as I've never done this.  But I feel really accomplished about the fact I'm even going to try.  I hope you do the same and share your stories here.
Judging take place later this month.  I'll post the results/feedback when it comes in.  Wish me luck!