Podcast: Play in new window | Download (Duration: 40:49 — 57.6MB)
Subscribe: Apple Podcasts | RSS
Today's show features an interview with Ted Allen, the host of the Food Network's very popular series "Chopped".  Meeting Ted and getting to interview him about home canning is a special treat I am delighted to share with my listeners. I think you will all enjoy it.
In the first of two audio clips, Ted gives his tips for how to best pick tomatoes for canning.  In the second clip Ted and I discuss trends he sees in in home canning with tips for beginner and veteran alike.  Ted concludes with his own story for ways you too can celebrate and share the abundance that comes through home canning.
I met Ted when I was in New York to cover the National Can It Forward Day Celebration on Saturday, August 17th.  This is an event put on by the makers of Ball Brand home canning products for which Ted was the host.  The goal of National Can It Forward Day was to celebrate fresh and local ingredients. It teaches the joys of fresh preserving with a live, free webcast featuring canning, crafting and entertaining demonstrations.
You can learn more about the Can it Forward event by checking out the #canitforward hash-tag on Twitter. You can still watch the National Can-It-Forward webcast at the Fresh Preserving website.(Note: click on FreshPreserving.com in the upper left hand corner to be taken to a video of the Can-it-Forward event.)
Correction:  In the podcast accompanying this blog post I accidently stated the television show Chopped is a competition among 3 chefs.  It is, in fact, among four.  You'd think how often I watch the show I wouldn't have made that error.  But I did and I'm sorry for the mix-up.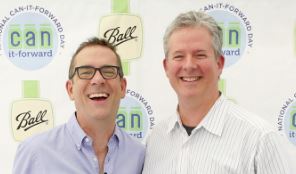 John & Ted Talking at Can it Forward Event, New York, Saturday, Aug 17, 2013
Picture Credits AP Photographer for Jarden, John Minchillo
Books and Places Referenced by Ted Allen in Today's Episode —
Brooklyn Kitchen is a place in Brooklyn Ted said has great classes for home canning and other awesome food topics.
Green Grape in Brooklyn, NY is a place Ted likes to shop for high quality food products.
Well-Preserved: This is a book of "Recipes and Techniques for Putting Up Small Batches of Seasonal Foods" by Eugenia Bone
Dave's Marketplace a high quality marketplace in Rhode Island featured in one of Ted's stories about celebrating and sharing the abundance.
Products Recommended by Ted and John in Today's Episode:
These are all affiliate links —
Ball® 6-pc. Canning Discovery ™ Kit
– The perfect tool for beginner's to get started and veterans to easily do small batch canning.
Ball® Blue Book Guide to Preserving
– One of the many trusted and "must-have" resources I constantly recommend.
Kerr® Half Pint (8-oz.) Quilted Crystal Jelly Jars, Set of 12
– If you're getting started you may find a case of these smaller jars ideal.
Ball® Regular Mouth 1 Pint (16-oz.) Regular Mouth Jars, Set of 12
– This is another standard in the home canning jar line-up.
Ball® 4-pc. Canning Utensil Set
– This set includes a funnel and jar grip will make your job of filling and handling your hot jars much easier!
Ball® 5-in. Wide Mouth Funnel
– You will make your job of home canning a LOT easier if you have a funnel.
Books Written by Ted:
Note:  The following links will take you to Amazon.com where I earn no compensation. 
In My Kitchen: 100 Recipes and Discoveries for Passionate Cooks
The Food You Want to Eat: 100 Smart, Simple Recipes
Queer Eye for the Straight Guy : The Fab 5's Guide to Looking Better, Cooking Better, Dressing Better, Behaving Better, and Living Better
Before you go …
If you haven't done it already please take a moment to give me a rating on iTunes (hopefully positive if you think I've earned it!).
Thanks for listening and all your wonderful support!
Click here to give me a rating on iTunes
(hopefully positive!) along with a written comment to tell people what you like about the podcast.  Thanks for listening! – See more at: http://canningseason.com/blog/cs-008-canning-101-nutrition-economics-home-canning-food-preservation#sthash.s8bdHBd2.dpuf
Click here to give me a rating on iTunes
(hopefully positive!) along with a written comment to tell people what you like about the podcast.  Thanks for listening! – See more at: http://canningseason.com/blog/cs-008-canning-101-nutrition-economics-home-canning-food-preservation#sthash.s8bdHBd2.dpuf