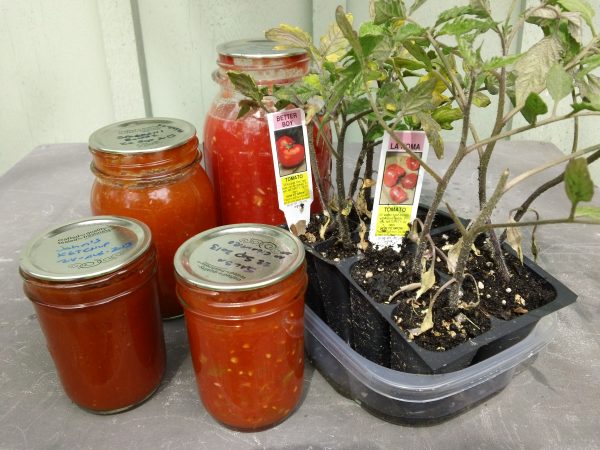 After having failed in my efforts at growing tomatoes from seed this year, I went out and bought some starter plants locally which I planted this weekend.  That got me to thinking of all the things I want to make from my tomatoes this year.  The picture shows my new plants as well as some of the things I put-up last year, including —
Tomatoes – The workhorse of any good home canning and cooking effort.  I put-up lots of quarts of these and will again this year.
Salsa – I came upon a killer salsa recipe last season. After years of experimentation, it's become my favorite.  The recipe and notes are here.  I'm going to enter this into the Minnesota State Fair this year.
Ketchup – Not a lot of people make their own ketchup but it's totally worth it if you do.  It's also perfect for home canning.  My homemade ketchup is the foundation for making cocktail sauce, thousand island dressing, and barbeque sauce.  I'll talk about making your own ketchup in a future show.
Spaghetti sauce – The risk to making spaghetti sauce ahead of time comes if it doesn't quite have the flavor you'd like and  you're stuck with jars of it.  The advantage is that it's so convenient when you need a jar for spaghetti night.  I like spaghetti night.  I think I'll still put-up some more sauce this year.
Will you be canning tomatoes this year?  If so, what special things do you enjoy making from them?