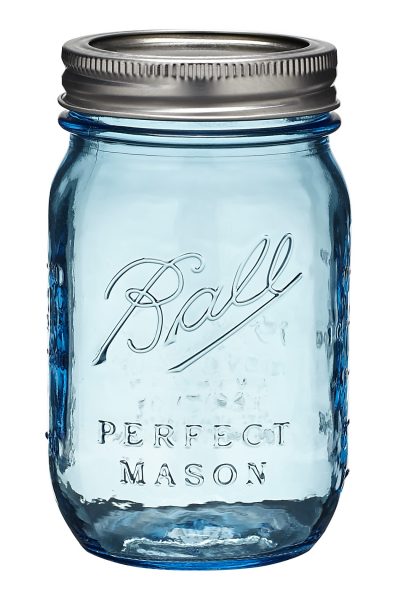 ** Contest Ended 17-August-2013. Thanks for entering! **
Sign-up For the Canning Season Newsletter for a Chance to Win Ball Heritage Jars!
To help celebrate National Can It Forward Day on August 17th, the makers of Ball canning jars have generously provided 15 cases of those great looking blue canning vintage-style jars to give away.  Plus, I have 3 collector's cases from the first 100 produced (with offical Certificate of Authenticity).  Follow these easy steps to enter to win your own case:
Use the form on this page to sign-up for the Canning Season Newsletter. 

Those already signed-up are automatically entered to win.

Make sure you reply to the confirmation message the system sends you after you sign-up.

Once you reply to the confirmation message, you will automatically be entered into a drawing to win.

Watch for future emails from me with great discount codes on products and services you love!

A case of Heritage jars will be given away each day between now and National Can It Forward Day on August 17th.  Watch my twitter feed for each day's winner. Follow @CanningSeason

You can have full confidence you will NEVER be spammed by me and your information will only be used by me.  You can unsubscribe any time (however, if you do you will no longer be eligible to win the jars!).

See below for ways you can legitimately enter more than once.
Anyone who signs up to get the Canning Season newsletter by August 17 – that's the day of the National Can It Forward Day – will automatically be entered into a drawing to win a case of Ball Heritage Collection jars. These are those great looking blue jars Ball produced this year to mark the 100th anniversary of the launch of the "Perfect Mason Jar" in 1913.  (Those of you who already signed up for my newsletter are automatically entered.)
15 Lucky People Are Going to Win a Case of Ball Vintage Style Jars
I will give away one case each day up until Saturday, August 17th, Can It Forward Day.  Daily winners will be announced via Twitter.  Follow @CanningSeason
Three Additional People Will Win a Case From the First 100 Produced – With Certificate of Authenticity
When they started production of the blue Vintage Jars earlier this year, the Ball people put aside the first 100 cases as a super-collector's edition.  They come with an offical Certificate of Authenticity that shows you they were part of the very first hundred cases run of this limited edition. I have three to give away! 
This picture is from the case the good people at Ball were kind enough to give to me!  My case was #51 in that first batch of 100.  Pretty cool, huh?
Benefits of Signing Up for the Canning Season Newsletter
Email alerts anytime a new blog entry or podcast episode is posted.
You get exclusive, time-sensitive discount codes for the products and services you love from my affiliate partners.  Many of these deals are phenomenal and are often not advertised anywhere else!
Important reminder:  I will never spam you or give your information to anyone else.
Additional Ways to Win
In ALL cases, you must sign up for the Canning Season newsletter FIRST.  Once you do that, and ONLY once you do that, you can legitimately enter more than once by doing either of the following —
Click here to give me a rating on iTunes (hopefully positive!) along with a written comment to tell people what you like about the podcast.  But you must send a message to me using the form at "Contact John!" to let me know the userID you used to post the rating on iTunes – Otherwise, how else will I be able to contact you if you win?!?!
Follow Canning Season on Twitter and then send this tweet out to all your followers Tweet to let them know you entered the contest (only one tweet per day will count).
Rules of the Road
Please allow that this is the first Canning Season contest ever.  We are really excited about it, but if I mess something up along the way, I will do my best to make it right.  Thanks for all your support & good luck!
All winners will be contacted directlly via email or via Twitter direct message.  Those who do not reply back will forfeit their prize.
Only one winner per household will be allowed.
When you sign up for my newsletter, the system automatically sends you a confirmation message to make sure it's really you.  You must reply to that message to be entered. 

Tweets or iTunes ratings/comments without first signing up for the newsletter are not eligible to win.

Those who unsubscribe from the Canning Season newsletter at any time will not be eligible to win.