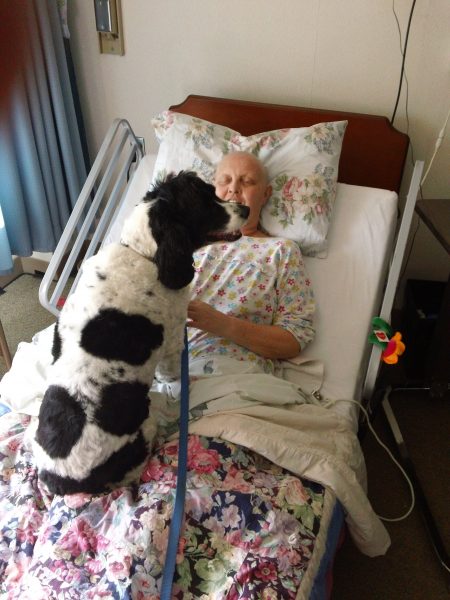 "I'm dying John," was the first thing my friend Sue said to me when I sat next to her bed at hospice last week.  This was my second time seeing Sue since she took ill with a brain tumor, "They brought me here to die and I hate it."
"I hate it too Sue," I told her, softly, as I glanced around the room at her exhausted family members before adding, "We all do."
I mean, what else do you say to a friend or loved one who's dying?  Of course we all hate it.
We hate it for Sue, we hate what her loss means to us, we hate that we can't do anything about it, and, we hate the reminder that our own time will be upon us soon enough.
Maybe this is why I felt compelled to bring a jar of my canned peaches to Sue when I went to visit her in hospice last week. Let me explain.
Sue has been a friend of mine for over 10 years.  She's 58 now and I've only known Sue as a woman full of life and energy.  While she successfully mustered this positive spirit and energy to overcome earlier bouts with cancer, as the saying goes, this time it's different.
The tumor living silently inside her head is slowly robbing Sue of her faculties; her life.  She could be gone in days, perhaps weeks.  (Out of respect for the privacy of all, I'm not using Sue's last name nor am I giving a close-up picture of what Sue looks like in her hospice bed).
From what they told me, Sue is no longer eating and probably won't eat those peaches I brought her.  That makes me kind of sad too.  But I knew ahead of time that Sue was no longer eating.  So why bring food to a person you know isn't going to eat it?
I brought peaches to my dying friend for one of the same reasons I started this Canning Season community: To affirm our connection to each other; to find a way to share and be present in each other's lives.  It's that simple.
Sue and her family have been the recipient of my canned goodies through the years. In return, I've been the beneficiary of Sue's good humor, her wise counsel, and her ever-constant teasing about when I was ever going to get a girlfriend.  I knew there'd be a price to pay for asking Sue to help me pick colors when remodeling my house a few years back!
Sue even took care of my dog Philly a number of times for me when I had to travel.  It delighted us all when Sue proclaimed last week, as she's done many times before, that my dear pup still likes her better than me (you can see Philly on Sue's bed in the picture here).
I admit, my dear readers, to my concern at imposing on Sue's family through my visits at this difficult time.  But then I thought of my mother's passing in 2003.  It meant so much to me when people expressed their caring in her final days.  That comforted me back then. In that same spirit, I hope through simply showing up I was able to bring comfort and support for Sue's family who are surely suffering more than me right now.
To sum it up, Sue's last jar of peaches is an affirmation of the rhythms and cyclicality of life, even on the threshold of death.  It's a reminder of something bigger than ourselves; that everything's going to be okay.  One simple jar of canned goods quietly assures us that, yes, the growing season will return, whether here on in another form.  In short, my last jar of peaches for Sue was simply my way of being present for a friend and her family at a time when there is so little else you can do.
Lucky for all, Sue still retains her capacities for speech and cognition.  How long that lasts is anyone's guess.  We're taking the blessings as they come.  But we all still hate it.
Note: If you ever find yourself visiting a friend in hospice like I did, ask if you can bring animals to see the patients. The hospice where Sue is was most encouraging in that regard.  Sue was both surprised and delighted I brought Philly by.  It filled me with joy to see her reaction.